Kenton County man facing 10 years in prison for child porn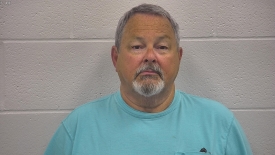 On January 22, 2019, Mark James Donnelly, 68, of Independence, entered a guilty plea to Distribution of Matter Portraying a Sexual Performance by a Minor and Possession of Matter Portraying a Sexual Performance by a Minor. Assistant Commonwealth's Attorney Emily J. Arnzen is recommending a 10-year prison sentence for Donnelly. Final sentencing is scheduled for March 12, 2019, before Kenton Circuit Judge Patricia Summe.
Donnelly was arrested by Kenton County Police Detective Billy Snipes on July 2, 2018, after police executed a search warrant on Donnelly's residence. Police seized multiple electronic devices and digital storage devices from Donnelly's home. A subsequent search of the evidence produced 509 photographs and 58 videos of children engaged in sexual performances on CDs and DVDs, meaning Donnelly had downloaded the images from the internet and saved them on a disc.
Kenton County Police began their investigation after receiving a tip from neighboring Campbell County Police that a computer linked to Donnelly's residence was distributing images of child pornography on the internet. Donnelly has remained in the Kenton County Detention Center on a $10,000 bond since his arrest.
Kenton County Commonwealth's Attorney Rob Sanders said his office sees an alarming number of cases just like Donnelly's. "The only limit on the number of child pornography cases are the limited resources and manpower available to police agencies to investigate them," said Sanders, adding "It's like shooting fish in a barrel full of fish!"
Sanders applauded the work of Kenton County Police detectives noting "They're the only agency in Kenton County, and one of only few in Kentucky, with an investigator dedicated exclusively to online crimes against children," Sanders said.
According to Sanders, Kentucky State Police and the Office of the Kentucky Attorney General also have investigators dedicated to online crimes against children, "But those investigators cover all 120 counties in Kentucky so they're stretched very thin," he said."I don't think we could ever put too many resources into protecting our kids!"
Posted on Monday, January 28th, 2019 @ 6:10PM
Categories: Press Room
Newsletter Sign-Up
Twitter