Emily J. Arnzen
Assistant Commonwealth's Attorney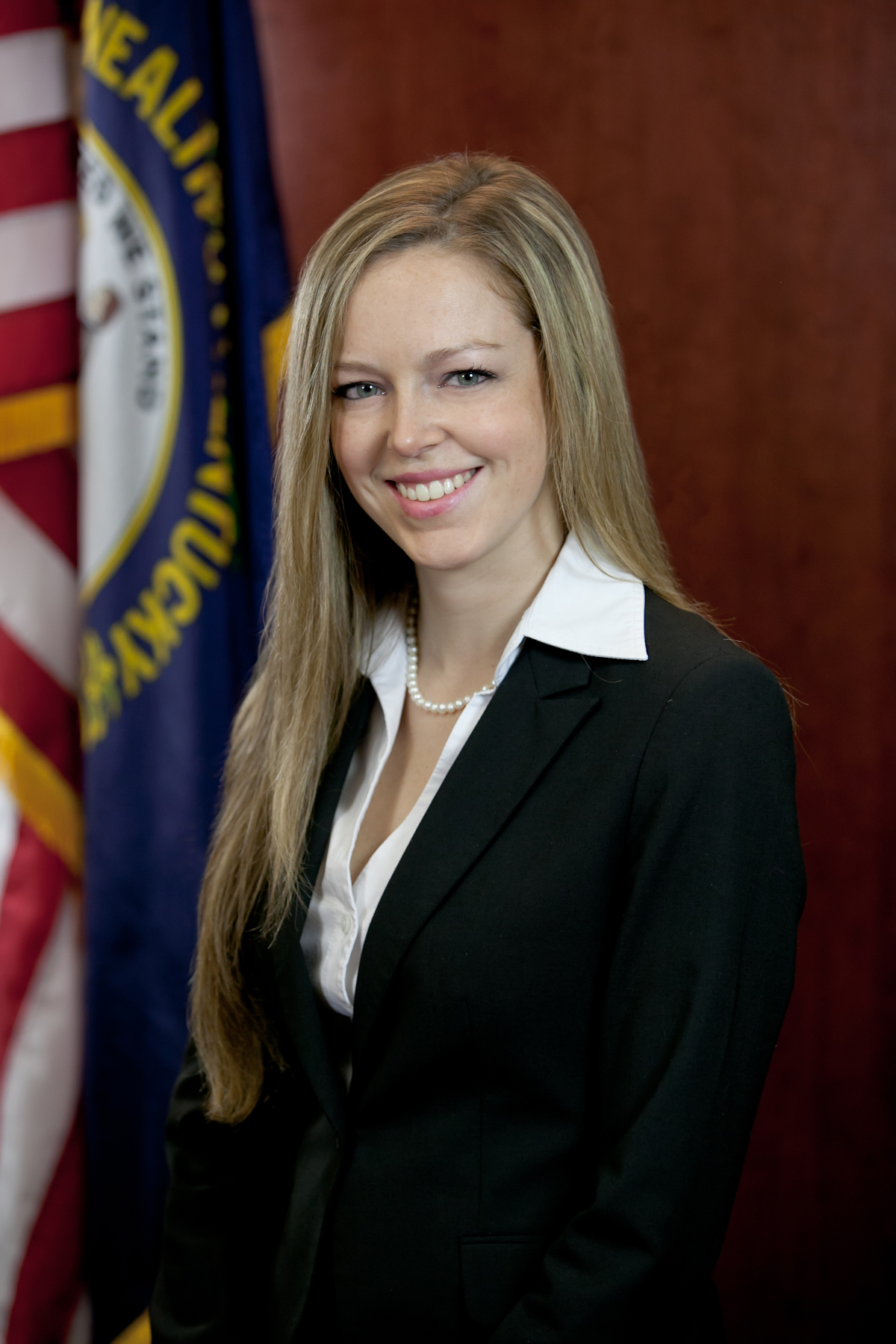 By the time Emily Arnzen reached middle school, she knew that she wanted to be a prosecutor. No matter what obstacles she faced, she never lost sight of her goal. "I knew I wanted to be a prosecutor, so I sort of worked backwards," Emily said, "I asked myself, what do I need to do to get there? And then I started working at it." Emily's goal was always to be a part of the criminal justice system, working alongside the police, who investigate crimes, as an Assistant Commonwealth's Attorney, who prosecutes the offenders.
Today, Emily has all the qualities you would want in a prosecutor: she is ambitious, organized, experienced, competitive, and passionate. As an Assistant Commonwealth's Attorney, Emily carries a victim-centered general prosecution caseload, including burglaries, robberies, assaults, sex crimes, and crimes against children. "I really enjoy general prosecution because I get to practice a variety of different types of cases, and that gives me the knowledge and experience that I need to be quick on my feet in any given situation," she said.
Working toward her goal of becoming a prosecutor, Emily founded her high school's mock trial program. She not only competed in the school program but also attended mock trial camps to gain additional experience. When she began college at Miami University in Oxford in the fall of 2007, she quickly earned a spot in the Miami Mock Trial program and began training and competing at the collegiate level.
Emily not only contributed to the Miami team's successes at invitational tournaments across the country and at the national level, she also earned multiple individual awards as an Outstanding Attorney. When she wasn't working on her own mock trial competitions, Emily helped coach the Talawanda High School mock trial teams and returned to the Mock Trial Academy as a Teaching Assistant.
Although Emily certainly prioritized mock trial during her time at Miami, she also worked closely with the worldwide non-profit organization To Write Love on Her Arms to found Miami University's chapter, which works to encourage and inform the campus about mental health issues and provide a network of care and a bridge to treatment for those who are struggling with this issue. Emily graduated from Miami University in just three years, with a degree in Psychology.
Emily began classes at the University of Cincinnati College of Law in the fall of 2010, after spending the summer studying literature and art in Florence, Italy. During law school, Emily continued to involve herself in mock trial, serving as the Treasurer, Teaching Assistant, and President of the Trial Practice Team. She was also a member of the law school's only Trial Practice team to ever compete at the national level. At the 2013 Hooding Ceremony, Emily was awarded the John W. Peck Trial Practice Award by the faculty of the University of Cincinnati College of Law.
But Emily's focus on his mock trial work didn't minimize her attention to the law school curriculum; Emily also spent years on the Dean's List, participated in Student Court, worked as a Research Assistant to the faculty, and received the Dr. George A. Dornette Legal Ethics Prize.
Aside from practicing law, Emily has returned to Miami University to coach its mock trial team. She also enjoys music, works with local animal-rescue groups, and is an avid fan of the Cincinnati Bengals. She is now a resident of Park Hills, where she lives with her rescue animals.
Newsletter Sign-Up
Twitter