Victim's Advocate Morgan R. Winter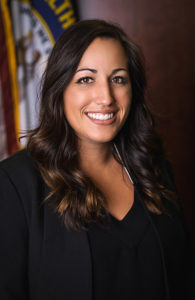 As the Victim's Advocate for the prosecutor's office, Morgan R. Winter is in charge of keeping victims of crime updated about the legal proceedings in their cases, supporting them during court proceedings by sitting with them and answering their questions, and generally making them feel comfortable throughout the judicial process.
A native of Hebron, Winter attended North Pointe Elementary and Conner High School. Upon graduating, she attended Northern Kentucky University, where she obtained her bachelor's degree in Criminal Justice and Sociology. In 2018, she received her masters in Criminal Justice from the University of Cincinnati.
During her collegiate career, Winter said that she was inspired to pursue a career in criminal justice after taking a Women in Crime class and discovering that she enjoyed solving crimes. Combined with her passion to help others, Winter believes that serving as a Victim's Advocate is a perfect fit for her skill set.
"I really enjoy helping others and making them fell more comfortable with the criminal-justice process," she said. "Helping people is truly important to me. Although it is difficult to only be able to help victims deal with their frustrations to a certain extent, I find this work to be incredibly important and rewarding."
Before working for the prosecutor's office, Winter provided court advocacy services to the Women's Crisis Center – a shelter that serves individuals who have experienced domestic violence, rape, and sexual assault. While working at the agency, Winter primarily served the more rural populations in Grant, Kenton, and Campbell Counties.
While working at the Women's Crisis Center, Winter heard from a friend that Sanders' office was hiring paralegal assistants. She applied for and received a job offer from the office in 2016. Upon graduating from her master's program in 2018, she began working as Victim's Advocate.
Winter said that the most rewarding part of her job is watching children thrive after justice has been served. She finds that empathy is the most important characteristic someone in her job can have.
"It's important to understand what people are feeling and where they are at emotionally to be able to help them," she said.
Currently, Winter lives in Independence with her fiancé, Aaron, whom she will marry in October 2018.