Rob Sanders
Commonwealth's Attorney for Kentucky's 16th Judicial Circuit, Kenton County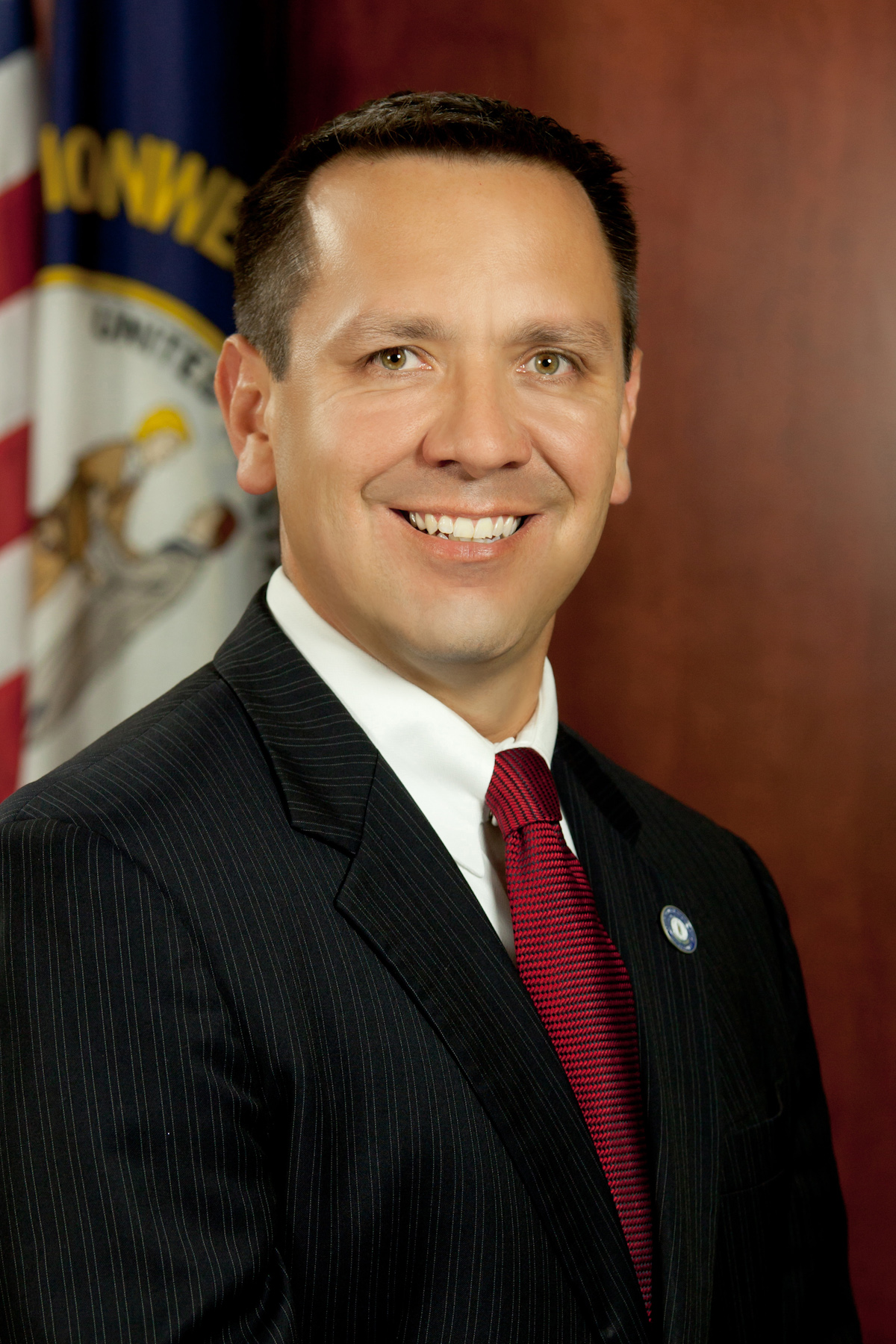 Rob Sanders is the Commonwealth's Attorney for the 16th Judicial Circuit. He is responsible for the prosecution of all felony offenses in Kenton County, the third most populated county in Kentucky with more than 165,000 residents.
In his role as Commonwealth's Attorney, Rob not only personally prosecutes a full caseload of high-profile felony offenses, including death-penalty cases, but also manages an office of 19 assistant prosecutors, detectives, victim's advocate, and paralegals.
Growing Up in the World of Law Enforcement
Throughout the first eight years of his life, Rob grew up watching his dad, Robert E. Sanders, work as a young Assistant Commonwealth's Attorney in Kenton County. Rob remembers being inspired by his father, watching him prepare at home in Covington.
He remembers his father spreading his case files across the family's dining room table and working into the night as he prepared for important trials and hearings. He remembers the closing arguments his father practiced on his family and friends in the neighborhood before making them to his juries. He also remembers police officers stopping by the house to talk with his father about a case, witnesses being interviewed in the family living room, and watching his father's hard work pay off when justice was served.
Rob also fondly recalls memories of his paternal grandfather, Jess Sanders Jr., who worked as Assistant Police Chief and Chief of Detectives for the Covington Police Department. His great-grandfather, Jess Sanders Sr., was also a police officer in Covington and the first airport police officer when he left Covington.
Rob's grandfather's work gave him a deep appreciation of the important work police provide on a daily basis to make our communities safe. Seeing his dad and grandfather work together to track down and prosecute criminals, Rob's passion for criminal justice was fostered by his family's commitment to public service. It was in his blood from an early age.
"Growing up, I really had a lot of admiration for the work of police officers because of my grandfather's work in the Covington Police Department, and my father has always had a lot of respect for law enforcement," Rob said. "Once I realized I didn't have the talent to play in the NFL or Major League Baseball, my childhood dream, I knew that what I really wanted to do was prosecute criminals, just like my dad and grandfather did."
Developing Leadership Skills and Legal Expertise
As Rob's hopes for a professional sports career dwindled, his internal drive to become a prosecutor intensified. After earning a BA in communication from Tulane University in New Orleans in 1995, Rob came home to Northern Kentucky to develop his legal skills and strengthen relationships within the community. In 1998, he completed his law degree at the Salmon P. Chase College of Law at Northern Kentucky University.
Shortly after becoming licensed to practice law in Kentucky, Rob became an Assistant Commonwealth's Attorney in Kenton County under then-Commonwealth's Attorney Don Buring, where he was assigned to try felony cases involving sex crimes, arson, murder, kidnapping, and assault.
In 2001, after Buring lost his re-election bid, Rob joined his father's law firm – the Sanders Law Firm, P.S.C. – where he practiced personal injury, criminal defense, small business, and domestic law. Although Rob enjoyed his time in the courtroom practicing criminal defense work and learned much from the experience, his work in this field only further convinced him that his true calling was to be on the other side of the courtroom.
"I hadn't gotten prosecution out of my blood," he said. "I wasn't nearly as happy being a criminal defense lawyer as I was being a prosecutor."
Re-Entering Public Service
In 2004, Rob decided to run for the Covington City Commission. He believed he was in tune with the issues facing the city and wanted to do his part to improve the community in which he had spent much of his childhood. He took office in January 2005 and served as Vice Mayor until December 2006.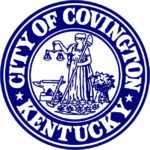 While he enjoyed making Covington a better place during his time on the City Commission, he knew that his true passion was prosecution work, and Rob believed he could continue to bring positive change – on an even larger scale – as Commonwealth's Attorney for the people of Kenton County. So, in 2006, he launched his bid for that office, and after beating the incumbent and another challenger, Rob assumed his current role on January 1, 2007. Since then, Rob has been re-elected to the office for two additional six-year terms.
Bringing a Collaborative Approach to Felony Prosecution
The philosophy Rob brings to his office centers on collaboration: he and his team strive to actively participate with law enforcement agencies and their officers to work closely with not only major case detectives but any patrol officer who seeks help from the office.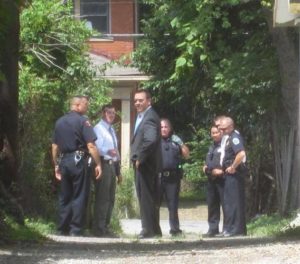 Rob wants to make sure officers are up to date on the law and helps them to understand how they can best collect evidence so his office can effectively seek justice for victims of crime. Rob prides himself on being available, around the clock, seven days a week, to the 17 law-enforcement agencies with which he works in Kenton County, from the largest department in Covington to smaller departments like Villa Hills and Park Hills to the Kentucky State Police.
Rob is proud of the work he and his staff accomplish each day. As leader of the third largest Commonwealth's Attorney office in Kentucky, and amid continued state budget cuts and reductions, he feels lucky to work with a great team of attorneys who have built and maintain a high conviction rate in the county. He has renewed the office's focus on its extern program as an incubator for talent and is proud to have helped train many of the state's up-and-coming prosecutors.
"I am fortunate to have extremely talented people working for me, and many others who have worked here but moved on to other careers where they make a better income," he said. "Retaining good people amid state budget shortages is tough, but maintaining a strong student intern program has helped cultivate our talent pool so we always have skilled attorneys on staff."
Improving the Criminal Justice System in Kentucky and U.S.
During his tenure as Kenton Commonwealth's Attorney, Rob has served as President, Vice President, and Secretary of the Kentucky Commonwealth's Attorneys Association.
He currently serves as the co-legislative liaison for the organization, which means he often spends time in Frankfort representing prosecutors and providing advice to legislators and staffers regarding the formation of or changes to criminal-justice laws and policies affecting the entire state.
Rob also represents Kentucky on the National Best Practices Committee of the Prosecutors' Center for Excellence, an organization that works with prosecutors to improve the criminal-justice system, address emerging issues, and support statewide best practices for prosecutors.
Two governors have appointed Rob to serve as one of the three Commonwealth's Attorney representatives to the Prosecutors' Advisory Council — Gov. Matthew Bevin (2015 – Present) and Gov. Steve Beshear (2007-2010). The Prosecutors' Advisory Council controls the budget and policies for all 57 Commonwealth's Attorneys and 120 County Attorneys in Kentucky.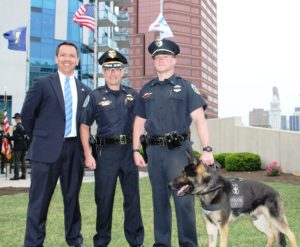 In 2007, Kentucky Supreme Court Justice Wil T. Scott appointed, and in 2015, Justice Bill Cunningham reappointed Rob to serve on the Kentucky Supreme Court's Criminal Rules Committee — one of four Commonwealth's Attorneys on the 13-member committee that reviews, revises, and writes the Kentucky Rules of Criminal Procedure.
In 2018, Chief Justice John Minton appointed Rob to serve on the Supreme Court's Judicial Workload Assessment Committee, which evaluates current workloads in each of Kentucky's 57 judicial circuits and makes recommendations on the expansion or contraction of judicial circuits in Kentucky.
Making Time for Community and Family
Rob remains active in several community organizations to which he gives his time and expertise. He has served on the board of directors of the NKY Drug Strike Force (2017-2018), served for 20 years as a volunteer firefighter for the City of Fort Mitchell, and has been a member of the adjunct faculty at the Chase College of Law at NKU. He is a former member of the Board of Directors of the Family Nurturing Center, a child abuse prevention, intervention, and counseling agency in Florence.
Rob currently serves as the secretary of the Northern Kentucky Bar Association's Board of Directors and a member of its Executive Committee. He also serves as a member of the Kenton County Multi-Disciplinary Team Against Child Abuse, the Kenton County Child Fatality Review Task Force, the NKY Regional Mental Health Court, the Kenton County Community Corrections Board, and the NKY Human Trafficking Task Force.
Rob's family has been instrumental to his success as a prosecutor. Beyond inspiring him to become a prosecutor when he was growing up, his dad, a nationally recognized trial lawyer, and his younger brother, Justin, who works as an attorney at a local law firm, have offered many hours of pro bono service to the Commonwealth Attorney's office since Rob took office.
"My dad can't do criminal defense work in Kenton County because I'm the prosecutor here, but he can still prosecute cases, and he does," Rob said. "I have been fortunate to have both him and my brother use their experience and expertise to successfully prosecute cases on behalf of my office free of charge."
Rob relies upon his family of talented lawyers, including his wife, who is also a successful trial lawyer with her own law practice, and his mother, Shirley, a nurse-paralegal, for advice and assistance, all of whom have worked on behalf of tort victims who have suffered catastrophic medical and economic injuries. "Whenever we have cases involving complicated issues, such as medical issues, I often send my prosecutors to talk to my dad, my wife, and my mom to get the answers they need," he said.
Rob said his immediate family has offered a tremendous amount of patience and love since he took office as Commonwealth's Attorney. He and his wife welcomed their daughter into the world in 2007. Rob said the birth of his daughter changed his life, both personally and professionally.
"In the months before she was born, I worked 12-hour days, just about every weekend, and seldom took time off from the job," he said. "Because she is now such an important part of my life, I have a much better work-home life balance."
"She also makes me a better prosecutor," he continued. "She helps me to keep things in perspective and allows me to better relate to crime victims. Now, when I'm working with victims of crime, I simply ask myself,  "How would I feel if something like this happened to my daughter?"
In addition to spending time with his family, Rob also cheers on the Cincinnati Red and Bengals. He also enjoys hunting, fishing, cooking, and CrossFit in his spare time.
Newsletter Sign-Up
Twitter