Casey Burns
First Assistant Commonwealth's Attorney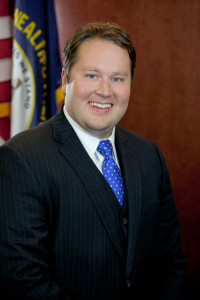 As the First Assistant Commonwealth's Attorney, Casey Burns is Commonwealth Attorney Rob Sanders chief assistant. As a prosecutor, Burns has worked on the front line of the ever-evolving war on drugs by handling many of the narcotics-trafficking prosecutions in Kenton County.
A few years ago, traffickers' primary drug of choice was crack cocaine. Today, however, heroin and fentanyl have surpassed crack as drug of choice for drug users and traffickers.
"In 2010, all of Kentucky had only 4,020 heroin charges," Casey said. "During that year, Kenton, Campbell, and Boone counties accounted for more than 2,400 of the criminal cases involving this drug with Kenton County having more than 1,400 of its own cases."
Casey said the reason that heroin has become such a problem in Northern Kentucky is because of the area's close proximity to Cincinnati, which he calls a "pipeline" for the drug, as well as the cost and addictive nature of the drug.
"Heroin is relatively cheap," he said. "Pain pills are incredibly expensive and many of the people who used to take pain pills now use heroin. The problem is that heroin is incredibly addictive, and the withdrawal is so horrible that many people never do."
Casey estimates that as much as 90 percent of all cases handled by the Kenton County Commonwealth's Attorney office are the end result of drugs. Burglaries, thefts, assaults, and murders are often caused by individuals seeking money for drugs or by those who are under the influence of drugs at the time they commit the crimes, or both, he said.
Adding to this problem, Casey reported, is that more and more people are coming into Northern Kentucky from Ohio to sell heroin because the penalties for drug trafficking were recently reduced by the Kentucky legislature.
In the past, it was harder to find drug dealers willing to come to Kentucky and sell because the penalties in the state were much stiffer than Ohio, and local police departments, like those in urban areas, such as Covington, were better able to interdict these crimes.
However, after the recent change in legislation, these departments – also facing reduced budgets and less state and federal funding than in the past because of the recession – have been overwhelmed by a greater volume of traffickers crossing the bridges and selling their drugs on our streets.
Because of his experience handling drug cases, Casey has become an office expert in the area of "search and seizure," advising and assisting local police agencies in the proper procedures for searching homes, cars, and bank accounts and seizing illegal drugs and money.
Casey grew up in Fort Mitchell, Kentucky, where he attended Beechwood High School. He has a bachelor's degree in business and economics from the University of Kentucky, where he graduated cum laude in May 2004. He then attended law school at UK, where he was the recipient of the Tommy Bell Memorial Scholarship in honor of the late UK law graduate who was a highly respected referee in the National Football League.
Casey's first job out of law school was working at The Sanders Law Firm in Covington. There, he worked for Rob Sanders' father, wife, and brother. In October 2008, Casey left private practice to join the Commonwealth Attorney's office. Initially, Casey handled general prosecutorial duties before moving into the more specialized area of drug trafficking cases. Casey became the First Assistant Commonwealth's Attorney in November 2016.
"I love being in the courtroom every day," Casey said. "It's such a great way to give back to this community, which has given me so much to me."
Casey is in the process of rehabbing a house in Covington. He enjoys attending Reds' and Bengals' games and playing softball.