Services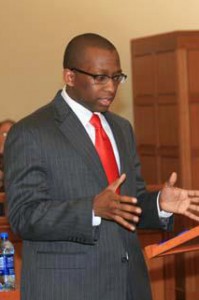 As Kentucky's third largest Commonwealth's Attorney office, our team of 16 Assistant Commonwealth's Attorneys, staff, paralegals, detectives, and externs, led by Commonwealth's Attorney Rob Sanders, prosecute all felony crimes for the state's 16th Judicial Circuit, which includes all of Kenton County.
This page offers a brief overview of what we do — the services we provide and those duties we are legally required to carry out pursuant to state law.
Statutorily Required Duties: Prosecution
Pursuant to Kentucky Revised Statutes Chapter 015.725, our office is responsible for prosecuting all crimes in our jurisdiction's Circuit Court. Felony crimes are tried in Circuit Court, which means that we prosecute all felony cases occurring in Kenton County, including but not limited to homicide, assault, rape, sexual abuse, drug possession, robbery, and arson, among many others.
Each year, about 3,000 cases flow through our office, of which about 1,000 are indicted as felonies. Our office is led by Commonwealth's Attorney Rob Sanders, an independent state official, elected by the voters of Kenton County to a six-year term. (Rob is currently in his second term.) The office represents the Commonwealth of Kentucky in prosecuting some of the most heinous crimes committed in Kenton County, and our goal is always to secure convictions and serve justice to make our county a safer, more prosperous community.
Services and Resources for Victims
Due to the nature of the crimes with which we deal on a daily basis, our office must respect and serve these crime victims, which often include young children. Our in-house victim's advocate, , works with our attorneys to make sure victims are kept up to date on the status of their cases and helps victims find the resources they need when experiencing some of the most traumatic circumstances they will ever face in their lives. To learn more about the resources we provide to victims, please visit this page.
Services and Resources for Law Enforcement
As we serve the Commonwealth's third largest Circuit Court jurisdiction, prosecuting felony crimes demands that we work in concert with the 17 police agencies working within our bounds. From responding to a crime scene when requested to final sentencing in court, we serve our law enforcement partners at every step of a case and make sure, outside of any particular case, that all police in Kenton County are up to date on the law. Learn more about the resources we provide to law enforcement by visiting this page.
Externship Program
We are pleased to run one of the state's most successful prosecutorial externship programs, offering law students an opportunity to work with our licensed attorneys and gain valuable experience in the office and courtroom. Many externs have gone on to serve as Assistant Commonwealth's Attorneys in our own office, work as prosecutors in other parts of Kentucky, or enter private practice. To learn more about our externship program, please visit this page.
Education and Community Outreach
Our office is committed to educating Kenton County citizens about our work. Our website, including its regular blog and press postings, and our weekly newsletter are designed to keep the general public knowledgeable about what cases our attorneys are working on and what is happening in the Circuit Court each week.
Furthermore, organizations, companies, departments, church groups, neighborhood associations, schools, clubs, scout groups, or any other group of people who are interested in a free training or presentations on any topic related to our office, prosecutions, and/or the criminal justice system in the Commonwealth of Kentucky are invited to call (859) 292-6580 or email rsanders@prosecutors.ky.gov to arrange training or presentations.
We take our work seriously and want the public to know what we do because it takes all of us — prosecutors, police, and citizens — to make Kenton County a great place to live, work, and raise our families.