Jury Recommends 90 Yrs for Child Molester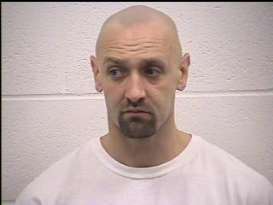 In January, 2012, Elsmere Police were called to a local grade school after a female student reported being sexually abused by Kyle Sheets for several years.  Elsmere Police Detective Dennis McCarthy arranged for a foresic interview of the child at the NKY Children's Advocacy Center.  During the interview, the girls described repeated acts of sexual abuse by Sheets that started when she was 6 years old.  McCarthy obtained a search warrant for Sheets' residence where the detective recovered physical evidence that corroborated the girl's statements, including to homemade pornography that Sheets had shown the child.  Along with the evidence of sexual abuse, McCarthy also found Sheets possessed a handgun despite being previously convicted of a felony. McCarthy arrested Sheets and charged him with numerous counts of Sodomy and Sexual Abuse of a child under 12 as well as Possession of a Handgun by Convicted Felon.
Asst. Commonwealth's Attorneys Kate Bumgarner and Corey Plybon elected to take the handgun by felon charge to trial first. (KY law doesn't allow Handgun by Felon cases to be tried with other offenses because it is the only offense that allows a jury to know about a defendant's criminal history during the guilt phase of the trial) On September 30, 2013, a jury took just 22 minutes to convict Sheets of the gun charge. Jurors then recommended a 6 year prison sentence.
The child molesting charges were called for trial before Kenton Circuit Judge Martin Sheehan on October 15, 2013.  Bumgarner and Plybon again presented the evidence and testimony on behalf of the Commonwealth. During the two day trial prosecutors called the now-10 year old victim to the witness stand as well as her mother, Detective McCarthy, and Dr. Berkley Bennett, Medical Director of the NKY Children's Advocacy Center.  During closing arguments, Bumgarner urged jurors to hold Sheets accountable for his acts telling them Sheets "dragged his victim into his world of sexual perversion – one from which she may never recover!"
After four hours of deliberations, the jury returned a verdict finding Sheets guilty of two counts of 1st Degree Sodomy of a child under 12 and Sexual Abuse 1st Degree of a child under 12. After testimony in the sentencing phase of the trial, jurors then deliberated another two hours before reaching a verdict. Shortly after 10:00 p.m. on October 16th, which was also the Defendant's birthday, the trial concluded when jurors recommended Sheets serve 40 years for each count of Sodomy and 10 years for the Sexual Abuse; all to be served consecutively for a total of 90 years in prison!
Sheets will appear again before Judge Sheehan for formal sentencing on November 25, 2013. Sheehan will then decide if the 6 years on the gun charge will be concurrent or consecutive to the 90 years for the child molesting.
Commonwealth's Attorney Rob Sanders applauded the work of his assistant prosecutors and the entire trial team including Detective McCarthy, Victim's Advocate Stephanie Watson, and the NKY Children's Advocacy Center. "The system worked and justice was served," said Sanders.  "Though this victim has suffered irreparable harm, her courage in coming to court, along with countless hours of hard work by the trial team, means one of the worst child molesters we've seen will be locked up for decades," Sanders continued. "The world is a better place with Kyle Sheets safely behind bars!"
Posted on Monday, October 21st, 2013 @ 3:57PM
Categories: Press Room
Tags: child molester, Commonwealth, conviction, Corey Plybon, Elsmere, guilty, Kate Bumgarner, Kyle Sheets, police
Newsletter Sign-Up
Twitter