Detective Nick Klaiss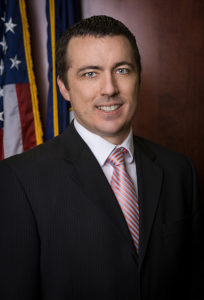 As the detective for the Kenton Commonwealth's Attorney Office, former Covington police officer and detective Nick Klaiss' primary duties are writing search warrants and subpoenas, investigating cases referred to the prosecutor's office, and connecting prosecutors with witnesses in those cases and assisting them during trials.
A Covington native, Klaiss attended elementary school at Glenn O. Swing and St. Augustine before graduating from Holy Cross High School in 1997. While in high school, Klaiss ran track and field and won two state championships in the 100-meter hurdles in 1996 and 1997.
Immediately after graduating from high school, during the summer of 1997, Klaiss started working for the Covington Police Department as a police cadet. In 2000, Klaiss attended the Kentucky Police Academy in Richmond, Ky., where he undertook the training he needed to be certified as a police officer in Kentucky. He then went to work at as a patrol officer in Covington for 13 years before being promoted to detective in 2010, a role in which he served for seven years.
"I've always wanted to be a cop and work with people," Klaiss said. "I later discovered after being a detective that I really enjoyed talking with people. I also liked the fact that in my line of work I work on something different every day."
After retiring from the Covington Police Department in 2017 after 20 years of service, Klaiss was approached by Commonwealth's Attorney Rob Sanders, who asked him if he wanted to work as the detective in his office. Klaiss said that he was honored by the offer because the prosecutor's office had such a great track record of success in criminal convictions.
Klaiss said that one of the most rewarding moments in his career actually occurred during his tenure as a police officer in Covington. When he was assigned as the school-resource officer at Holmes High School, he saw one of the students exhibiting potential signs of an abuse victim – lighting things on fire, acting out, seeking attention, and generally being a problem student in the classroom.
A few years later, when Klaiss was working as a detective, he saw this problem child's name pop up in a case file on his desk. The child had reported that his stepfather had been abusing him. He also learned that the child had acquired an arrest warrant for his failure to show up for a court date.
With a pretty good understanding of the reason why this kid was acting out, Klaiss began making phone calls to the child's probation officer and others involved with the case, trying to get the warrant removed. Many people thought Klaiss crazy for his actions and said he was wasting his time with his efforts, but he persisted until he was successful. Klaiss believes that it is important that victims of crime be heard and their injuries addressed, a practice that he continues to follow today in the prosecutor's office.
"It's important to remain open-minded in this line of work," Klaiss said. "It's so easy to become jaded, but you have to remember that each person is their own person, and every case is unique."
Klaiss currently lives in Covington with his wife Jodi; his 12-year-old son, Charlie; and his two daughters, Suzette, 10; and Lily, 6. He enjoys hiking and camping across the country, and has been to most of the National Parks in the western United States. Thus far, Glacier National Park is his favorite park to visit.