Lawrence D. Hilton
Assistant Commonwealth's Attorney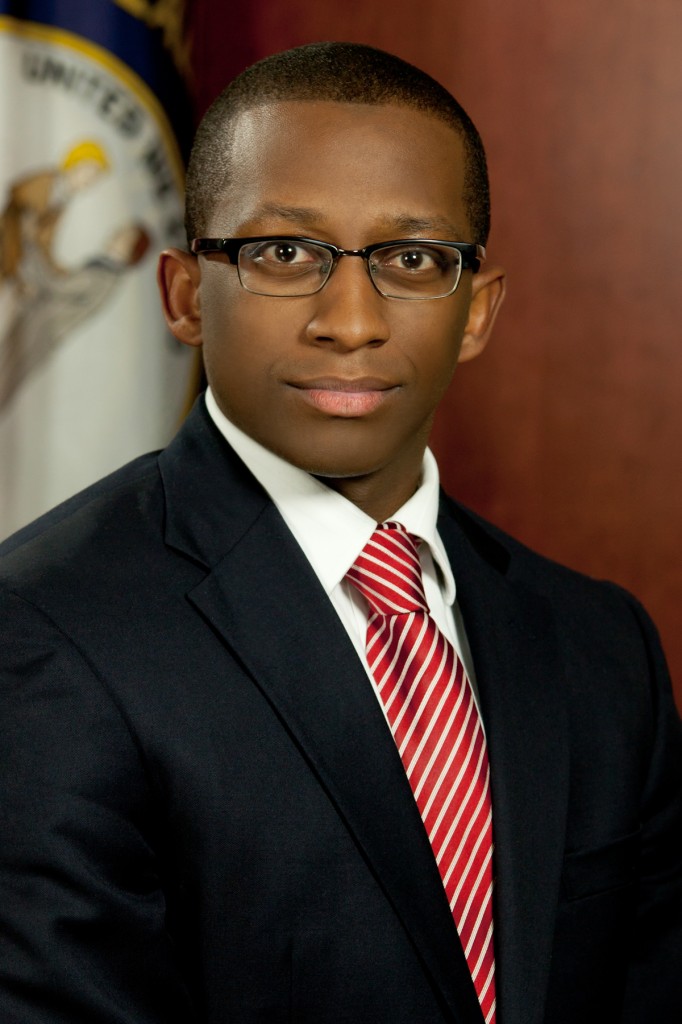 If you thumb through Lawrence Hilton's resume and then start to think about his many talents, you might wonder if he has made it this far in life without much sleep. His passion for prosecution, music, and education, among others, has earned him the title of "overachiever" on Rob Sanders' team. What Lawrence really strives for, though, is excellence in everything he does—in the office, courtroom, classroom, and beyond.
Hailing from the southern side of Atlanta, Georgia, Lawrence has traveled many roads—figuratively and literally—before joining Rob Sanders' office as Assistant Commonwealth's Attorney in May 2012. It was in his second year of law school, though, that he knew prosecution was "[his] public service" and what he wanted to do.
"I figured out about halfway through law school that I wanted to be a trial attorney," Lawrence remarked. "To me, that didn't mean I had to give up the other things I was passionate about—such as music and teaching; it just meant I had to keep working hard."
Looking back to growing up outside of Atlanta, Lawrence traces his roots in trial advocacy to his high school days, where he participated in mock trial all four years. Although he headed to Greenville, South Carolina, to attend Furman University in 2002 and study music, by his senior year in 2006 he earned the title "All-American" at the American Mock Trial Association National Championship.
"Studying music at Furman, I was able to do something I loved—sing," he said. "But as much as I still love music, I didn't want to stop developing my interest and skills in trial advocacy."
When Lawrence's time in Greenville came to end, he headed to Oxford, Ohio, to complete a Master's program in Student Affairs and Higher Education at Miami University. In the two years he spent in that program, law was still an active part of his studies.
After earning his Master's in 2008, Lawrence made the hour-long trek down to Northern Kentucky University where he matriculated to its Chase College of Law. It was there in Highland Heights, Kentucky, where all the pieces came together.
"My experiences in college and during graduate school were amazing," he said, "but law school was were I thrived. I saw myself starting to realize my dream of becoming a trial attorney."
He put everything he had into those three years of law school, preparing for the work he does in his current position. Even amidst class, working as a law clerk, and completing a limited license externship at the Ohio Justice and Policy Center in Cincinnati, Ohio, Lawrence excelled at advocacy. His law school team won the 2010 Kentucky Mock Trial Competition, and Lawrence was named the competition's most outstanding advocate.
Beyond the success he earned at competitions within the Commonwealth of Kentucky, he also gained recognition for his talents nationally. His team won the National Labor and Employment Moot Court competition held at New York Law School in 2011. Lawrence represented Chase twice at the National Trial Competition in Dallas, Texas, finishing as a national semi-finalist in 2011. Additionally, Lawrence was twice selected to compete at the Top Gun Mock Trial Competition, an annual advocacy competition hosted by Baylor University where a selection committee invites the top 16 law school advocates to compete. In each appearance, Lawrence was a quarterfinalist. Because of these accomplishments, he was selected and inducted into the Order of the Barristers in 2011.
Despite his many achievements, when Lawrence earned his juris doctor degree in 2011 and passed the Kentucky and Illinois Bars shortly thereafter, he found a way—and continues to do so—in combining his passions. Between 2011 and 2012, he served as adjunct professor in the paralegal studies program at Eastern Kentucky University and was coach of the school's undergraduate mock trial team. Today, in addition to a full caseload in Kenton County, he teaches trial advocacy and coaches the mock trial team at his alma mater, Miami University.
"Helping people is what is really exciting for me," he said. "Whether it's sharing what excites me about trial work with students or helping prosecute a burglary to bring justice to a victim, I realize that my purpose in life is to help others."
Between all his commitments, including regular travel on weekends with his mock trial team, Lawrence doesn't have much free time. He makes time for reading, though, and maintains a robust exercise schedule. You might say that in his short life thus far, his love of running is what has taken him places—running up and down the southeastern U.S. and Midwest, as well as from talent to talent, always striving to do his best and help others.