Joseph K. Hill
Assistant Commonwealth's Attorney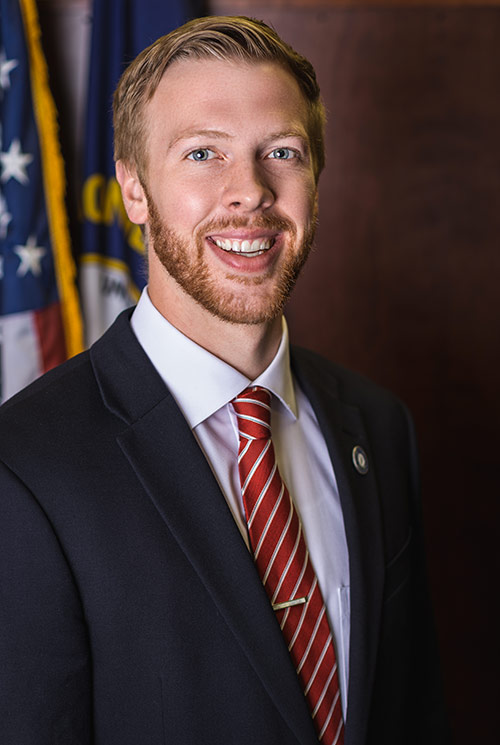 Joseph K. Hill's work in the Kenton County Commonwealth's Attorney Office primarily revolves around general prosecution of Class C and D felony cases. Although he works on all types of cases, much of his early workload has been closely related to the heroin crisis affecting Kenton County and Northern Kentucky and the office's H.E.A.R.T. (Heroin Expedited Addiction Recovery Treatment) program.
A native of Fort Thomas, Hill attended Highlands High School and completed his undergraduate degree in 2013 at the University of Louisville, where he majored in political science and pre-law studies. Afterward, he attended the Salmon P. Chase College of Law at Northern Kentucky University, where he graduated with a law degree in May of 2016.
Hill's first experience with Rob Sanders' office was in 2014, when he completed an internship in the office while attending law school. During this internship, Hill recognized the chemistry within Sanders's office and the work his prosecution team was doing in the community and decided that he would like to be a part of that experience after he graduated. In May 2017, Hill was offered a full-time position as an Assistant Commonwealth's Attorney.
A sports competitor his whole life, Hill said that he enjoys the challenge of litigation and honing the skills needed to be an effective prosecutor. He enjoys most of the cases he works on because he believes that through his work he is making a positive impact in the community by helping people defeat their drug addictions and turn their lives around, rather than just locking them up.
"Growing up in Northern Kentucky, it gives me a great sense of pride that my daily efforts help to represent our community and protect its best interests," Hill said. "I did not think I was going to do law until right before college. I originally wanted to go into the broadcasting or sports administration route, but I found that the law and trial work give you that same challenging feeling that you experience when you participate in sports."
The most important quality for a prosecutor is the ability to adapt, Hills said. He said that the most successful prosecutors carefully listen to the defense and approach each case with the flexibility and understanding that it is as unique as the person who is involved in it.
"I have handled a lot of the drug cases, which I quickly realized is a huge issue in our community, but each case is different, and every defendant deserves our full attention," Hill said. "We have to balance finding the right resolution for our community and for the lives of the defendants who are a part of our community."
In his free time, Hill enjoys playing basketball and rooting for the local collegiate and professional sports teams. He currently resides in Covington with his fiancé, Bethanni, and their energetic boxer/terrier mix, Rosie.
Newsletter Sign-Up
Twitter